Do all the good you can, by all the means you can, in all the ways you can, in all the places you can, at all the times you can, to all the people you can, as long as ever you can.
John Wesley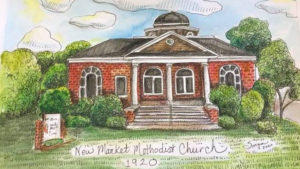 New Market United Methodist Church is a Christ-centered community of faith that tries never to forget the grace and love that brings us together and sustains us daily. We believe that all Christians take part in Christ's commissioning of his disciples and have the responsibility to bring the gospel to all people. We have faith that Christ is always with us in this endeavor. For this reason, we believe that the Bible calls us to be accountable and encouraging to one another in love, to take risks in meeting the needs of our community, and to live lives that demonstrate the grace that God has shown to us. Only by remaining prayerful and relying on the power of the Holy Spirit can we hope to answer this call. Of course we all fail from time to time – we are after all only human – but thanks be to God we can and do receive forgiveness in Christ Jesus.
Christian Beliefs
United Methodists share a common heritage with all Christians. According to our foundational statement of beliefs found in The Book of Discipline, we share the following basic affirmations in common with all Christian communities.
Explore what we say about God, human being, the church, the Bible and more.
Wesleyan Heritage
United Methodists trace our heritage back to a pair of brothers who started the Methodist movement in 1700s England. John and Charles Wesley, helped lead a movement to "spread Scriptural holiness over the land."
Explore our United Methodist history and beliefs.
Social Principles
The United Methodist Church believes God's love for the world is an active and engaged love, a love seeking justice and liberty. We cannot just be observers. So we care enough about people's lives to risk interpreting God's love, to take a stand, to call each of us into a response, no matter how controversial or complex.